A phenomenon that annoys almost anybody is sweating. Nobody really likes to sweat. However, it is also something that is required for the human body. It is one of the ways in which your body adapts itself to the excessive heat. But, if you observe that you are sweating more than normal, consider getting checked with a doctor. You might be suffering from hyperhidrosis. However, it is not a life-threatening condition, and it can be treated through medication and surgeries. Surgeries are a very quick solution, but you can get your hyperhidrosis treated through medicines also. From its causes to symptoms, you can find everything you need to know about the disease as you read along.
Causes of Hyperhidrosis
Certain people believe that hyperhidrosis is caused because of stress, anxiety, and peer pressure. It is true to some extent, all of these factors may affect the condition of a person. Also, people suffering from this disease often come across problems like stress and anxiety because of excessive sweating. Some other causes of excessive sweating are spinal injuries, alcohol abuse and diabetes. Hyperhidrosis generally starts during adolescence, and the signs are visible from a very early stage.
Symptoms of Hyperhidrosis
Symptoms of the disease are not just visible to you but to everyone around you. You tend to start sweating more than usual. It does not have a major effect on any of your organs. But, it can certainly degrade the quality of your life. However, discovering whether you are sweating fine or not is hard to tell. The human body reacts differently under different circumstances. So, if you notice that your sweat is creating problems for you, then consider getting yourself checked with a doctor. Here are some of the most common symptoms of hyperhidrosis.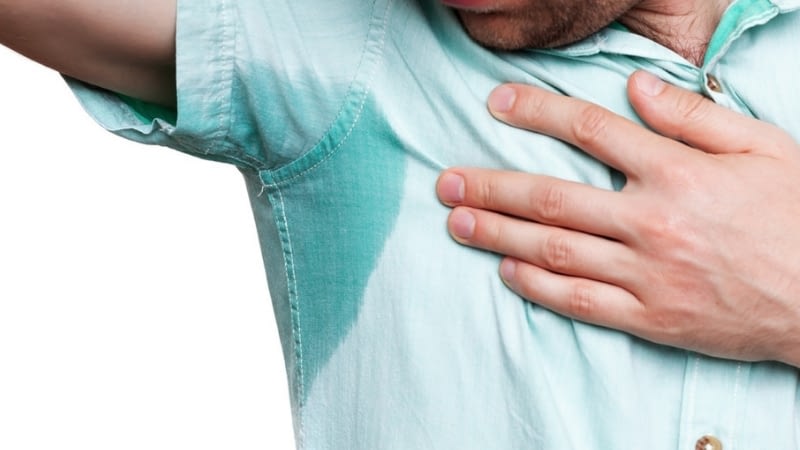 Excessive Sweating
This is one of the obvious conditions. You will evidently see sweat at almost every part of your body. But, some areas like your armpits will have huge sweat patches around it. If you see anything like this, you must consult with your doctor.
Sweaty Palms
Sweaty palms are yet another sign of hyperhidrosis. Most people feel that it is absolutely normal to have sweaty palms. But, you should not really take this lightly. It might not be creating any issues for you now, but it may create issues in the future. So, if you have sweaty palms, you must get yourself tested.
Heavy Sweating with Chest Pain and Nausea
This condition does not happen in early stages. But, if you have been ignoring your sweating conditions for a very long time, you may experience this. However, your life is still not in danger. It is just that your hyperhidrosis has leveled up. People often face heavy sweating, chest pain, nausea and a feeling of light-headedness because of this condition. If you have been feeling the same for a very long time, get yourself checked with a doctor right away.
There are certain ways of dealing with your hyperhidrosis while undergoing treatment. You always consider wearing a sweat proof undershirt to hide your sweat patches. It will help you regain your confidence.