TECHNOLOGY-SWEAT PROOF
Guaranteed to block 100% of underarm sweat!
NGwear undershirts are the 1st in India to provide you 100% protection from sweat stains boosting your confidence. No Sweat marks pass through to your outer clothing providing you with maximum protection, taking on the role of a safe antiperspirant or deodorant. When perspiration gets in contact with the undershirt, its special sweat proof fabric blocks sweat marks completely and allows the sweat to escape only as heat and vapor. The result: No sweat is transferred to your outer garment.

Our undershirt is different as it makes use of the most favorable materials to help you avoid pit stains. It is made of 95% micro modal fabric which when compared to cotton is 50% more water adsorbent. This premium fabric is also twice as soft as cotton. To make the undershirt fitting more comfortable, it has 5% Spandex that gives an extra stretch. Comfort is important when it comes to undershirts. The micro modal fabric and spandex make it pleasant to have the undershirt against your skin. It does not irritate or scratch. No other material is able to provide a silky feeling, comfort, water retention and the anti-microbial properties that micro modal fabric does.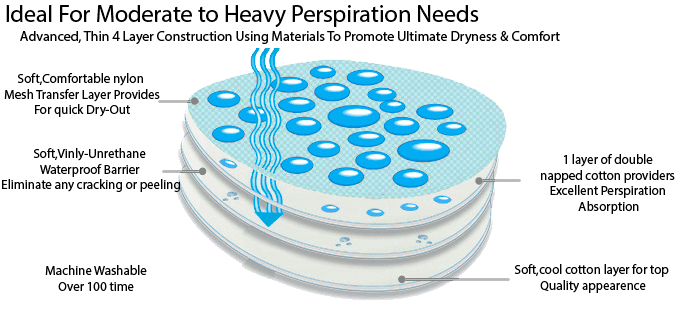 This undershirt's fibers are bound with silver. This addition is permanent and helps to regulate the body temperature. It absorbs heat away from your body when you are feeling hot and also keeps you warm when you feel cold. In addition to temperature regulation, it also deals with the odor that comes about when the sweat interacts with bacteria to release an undesirable smell.
Deodorant and antiperspirants may do an adequate job but they are not equipped to totally eliminate sweat marks. Our undershirt covers this through the inner waterproof layer which is free of chemicals, unlike the aforementioned products. It stops the transfer of sweat to your outer layer of clothing such as a dress shirt or a t-shirt. It can be washed repeatedly without wearing out, which makes it durable and therefore worth the purchase.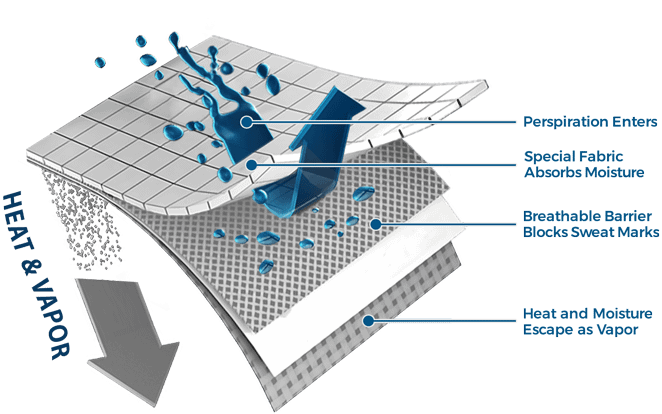 NGwear sweat proof undershirt has a slim fit design which helps to keep the protective waterproof area under your armpits throughout. This offers maximum protection. Additionally, the V-Neck and Deep V-Neck designs allow you to wear the undershirt with all kinds of outer garments. It is perfect for when you wear a dress shirt with the top buttons open and without a tie as it does not show. Finally, the undershirt is long enough so that it always stays tucked in.
Each of these factors are carefully considered and used to ensure that NGwear undershirt is as effective as possible. The technology is unparalleled, setting the undershirt above others in the market. However, you should note that you will still feel damp within the day although you will definitely not see the sweat marks on your outer garments. After all, no undershirt is magical to make sweat disappear completely.